THERMOCOAX TRANSMISSION CABLES
 Based on our mineral insulated cable technology, THERMOCOAX signal transmission cables can be used in the most aggressive media: nuclear radiation, high pressure, vacuum, corrosive liquids or gases, vibration.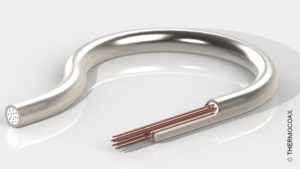 They can be used at temperatures up to 1200°C
We offer signal transmission cables with multiple conductors and multiple inner sheaths made of copper, iron or stainless steel
All MI cables can be welded or brazed onto ceramic/metal connectors
These cables are low capacitance for transmission of hyper frequency signals
 PIEZOELECTRIC SENCORS – VIBRACOAX®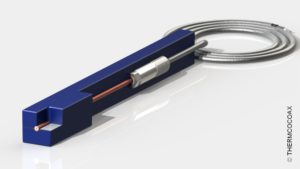 For road traffic control and analysis
 VIBRACOAX cable is a mineral insulated coaxial cable with a sheath made of a copper tube, which contains a polarised, compressed piezoelectric ceramic powder with a copper core running through the centre.
Principle of operation
In the field of traffic control and analysis,  the use of a VIBRACOAX® piezoelectric sensor allows measurement of the stresses generated by the vehicle's axles on the road.
When the wheel is passing over a VIBRACOAX® sensor, it creates a pressure variation which is transformed into electrical charges by the ceramic piezoelectric material.
Road Traffic
This piezoelectric sensor can be used in virtually any type of roadway, on its own or combined with any other kind of detector.
When associated with relevant electronic devices and equipment, this sensor offers many applications in open road and urban traffic control as well as for the protection of bridges and carriageways by:
Vehicle classification by counting and weighing individual axles
Gauging width of vehicles
Load distribution
Vehicle distribution
Vehicle discrimination
Weigh-In-Motion
Speed measurement
Monitoring traffic volume per carriageway
The piezoelectric sensor is also pyroelectric, i.e., it generates electrical charges when temperature varies.
Since the materials used for the VIBRACOAX® cable are metallic and ceramic, they can withstand aggressive media for a long time.