The THERMOCOAX IR welding solution is chosen by automotive suppliers because they need to weld without introducing polluting particles into the weld bead (due to PA66 35% GF), a process which could modify the properties of the material and possibly pollute the future content of the welded element (conformity to the Euro 6 standard).
The infrared sources can weld complex plastic shapes (2D & 3D) without contact and the weld bead offers a high bursting strength.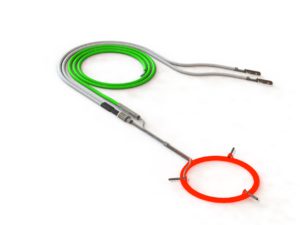 THERMOCOAX designs IR sources using Thermocoax's mineral insulated cable technology. They can be easily implemented in a production line, and are accurate and reliable over time.
The infrared sources (heating elements at a temperature of 850°C) are placed a few millimetres from the 2 elements to be welded. When the welding zones reach their melting temperature, the IR source is removed. The two parts are then pressed against each other to complete the weld.
Advantages of the Thermocoax IR sources heating elements:
Ability to follow complex 2D & 3D forms
The Thermocoax IR sources' emission wavelengths perfectly match the major plastic absorption wavelength range.
Welding materials acceptable: thermoplastics, polyethylene, PVC, polypropylene, composite reinforced plastics, polyamides, etc.
Low electricity consumption
Fast temperature ramp-up
Electrically insulated, low current leakage
Low maintenance required
Long lifetimes on production line