THERMOCOAX offers a specific range of Flange Immersion Heaters for petrochemical industries with an innovative design.
Our product range focuses on small tank petroleum-based heating applications requiring low density < 2W/cm² solutions with a total power up to 40kW.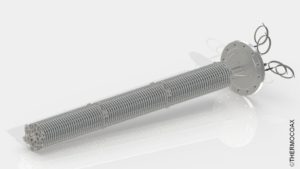 THERMOCOAX Immersion Heaters are designed for direct immersion in liquids such as :
Heavy fuel
Preheating fuel
Light diesel fuel
Standard diesel fuel
Machine oil
Mineral oil
Lubricating oil…
Also, for asphalt, tar and other heavy or highly viscous components.
To complete this range, our large offer of thermocouples allows us to be part of the main projects in petrochemical factories combining efficiency and safety:
Multipoint sensors
Hot point detectors
Specific sensors for subsea applications
Customised sensors
Thermocoax thermocouples are available with high-resistive sheath materials that can resist corrosive environments.
All temperature sensors can be operated inside pressure vessels.
THERMOCOAX thermocouples can be used in ATEX zones.
THERMOCOAX and ISOPAD solutions cover the primary needs of the petrochemical industries with electrical heating cables and solutions designed by our engineers.  All our solutions are customised to respond specifically to the customer's needs.
Immersion heaters
Drum heaters
Reactor heater solutions
Shaped electrical mineral insulated cables
Gas bottle heaters
Specific thermal solutions including heaters, sensors and connections
ATEX solutions on demand
For more information, please contact us. We will be more than happy to offer you the best thermal solution for your application.